Well, Beachbody has done it again. They are taking those excuses away and are launching a brand new fitness program called 22 Minute Hard Corps.  We are breaking the barrier of the latest 30 minute workouts and cutting it down more!  Tony Horton has developed this program and yes, it's only 22 MINUTES!! Tony Horton has designed this program so that there is NO EXCUSE as to why you can't GET SOME!!
In his words…
" In my eyes the 22 Minute Hard Corps Boot Camp is a tribute to the men and woman who voluntarily serve our country. It's a symbol that stands for something. Sacrifice, honor, character, respect, and duty. 22HC is a homage to the Armed Forces of the U.S.A., and an opportunity for YOU to connect with the sons and daughters who protect us. When you purchase 22 Minute Hard Corps, you have an obligation to finish the 8 week boot camp. Quitting is NOT an option. Respect this symbol, and do right by the people who serve. GET SOME!
mar
What IS 22 Minute Hard Corps?
– – Tony Horton (also the creator of P90X, P90X2, P90X3, P90, and more) has developed this no-nonsense boot camp style workout that is designed to give you awesome results!  It is total-body cardio, resistance, and core routines that occur 6 days per week for 8 weeks.  And yes, at just 22 minutes per day!  The workouts are fast paced with little rest and blend cardio and resistance training to target major muscle groups in your body.
Who is 22 Minute Hard Corps for?
Anyone looking for a shorter total-body workout that does not have overly complex moves along with a simple, flexible nutrition plan.  There is a modifier in the workouts so if you are concerned about not keeping up, have no fear!
What equipment is needed?
For some 22 MINUTE HARD CORPS routines, you will need a pull-up bar or resistance band and door attachment, as well as a Beachbody® PT Sandbag or dumbbells.  For MARCH ONLY, the 22 Minute Hard Corps Challenge Pack will come with the Beachbody® PT Sandbag!
What are the challenge pack options?

The 22 MINUTE HARD CORPS Performance Challenge Pack contains the 22 MINUTE HARD CORPS Base Kit, your first 30-day supply of Beachbody Performance Energize and Beachbody Performance Recover, and a FREE 30-day premium trial membership in the Team Beachbody Club that lets you stream your workouts with Beachbody On Demand. In fact, you will be able to access 22 Minute Hard Corps AND the nutrition plan within 24 hours!!  In addition, for MARCH ONLY, these challenge packs are not only on sale, but they come with a Beachbody PT Sandbag!  
In addition to above, you will also get discounted shipping of $2, ME as your Beachbody Coach, and access to my EXCLUSIVE 22 Minute Hard Corps Bootcamp Test Group that begins on April 11th!
What's included in the base kit?
8 Challenging workouts on 2 DVDs
Quick start Mission Guide
8-week Basic Training Action Plan
Rations for Results Nutrition Field Guide –
A basic but satisfying nutrition plan that lays outmission ahead. It makes meal prep easy so you canget back to the business of getting results
the three squares and two snacks you'll need for the
Cold Start pre-workout drill
Hell week Challenge card
HARD CORPS: Battle Buddy Workout DVD
How will the test group work? 
We will begin with a planning week where we will set goals, take measurements (no, you don't have to publicly share these), and dive in to meal planning so that we can really focus on our nutrition throughout the program.  I will be sharing my meal plan templates, and my personal weekly meal plans as well!  Throughout the 8 weeks of the program I will provide you with daily support, motivation, and accountability to reaching the goals that you set forth!  Challenge groups have helped to change my life and build new friendships and I love seeing how they do the same to others!
**Each participate is required to purchase the 22 Minute Hard Corps Challenge Pack/Program**
 Where can you access the group?
 I typically run my groups through a closed Facebook group; however, Beachbody has just released a BRAND NEW Challenge Group Tracker App (for ISO and Android)!! That means you don't have to have a Facebook account and you can participate in the group though the app!  Don't worry, I will make sure you get, and understand, all of the directions on how to access the app!
Challenge Tracker app
 
Can I get results in just 22 minutes per day?
Absolutely!!  Results from the test group participates have been filtering through and they are nothing short of amazing!!
Shallamar M. participated in the test group! In 8 weeks, she lost 9 pounds! She said, "I feel amazing! Healthier, fitter, and stronger. The workouts were easy to follow and simple. It helped me get results because I was able to follow the moves easily." Gotta love that! Simple and effective. Way to go, Shallamar!
Gary was another test group participate and as you can see, he too had great results!
Stephenie W lost 9 lbs and 7.5 inches in 8 weeks.  She said she loved the military/bootcamp style workout!
What You Get
Your Challenge Pack Includes:
A 30-DAY SUPPLY OF SHAKEOLOGY—Your Daily Dose of Dense Nutrition®.*
You could spend more than $700 on supplements just to re-create all the healthy ingredients in one bag of Shakeology. But for only about $4 a serving, you can treat your body to the delicious daily superfood protein shake that helps give you energy for your workouts, reduces junk-food cravings, and may help you reach your fitness goals faster. A nutrient-dense combination of antioxidants, phytonutrients, adaptogens, and many other rare ingredients gives your body nutrients you can't get from a normal diet. 100% vegan option now available.‡
8 workouts on 2 DVDs
Now you can "Get Some and Get Done!" in just 22 minutes a day. These workouts look basic, but they'll work your body to the max. And the results? Absolutely epic.
Resistance 1. These are 5 simple moves, but with 3 back-to-back rounds, the challenge is intense. That's how you get results in just 22 minutes a day.
Cardio 1. This 7-move workout gets your heart pumping from Minute One. Keep up with the platoon and earn a massive calorie burn.
Core 1. It's called "Hard Corps" for a reason. Get ready to work your lower back, abs, and obliques in this epic, 10-move drill.
Resistance 2. Did I hear you ask for more? Here it is. More resistance. More sweat. More muscles recruited.
Cardio 2. This is basic training, but there's nothing easy about it. It's 3 rounds of 7 exercises, just like Cardio 1, but these moves will push your limits even further.
Core 2. You've survived Core 1. Now the reps are doubled – to test your limits and maximize the burn.
Resistance 3. This workout takes the intensity up a click by adding plyometric strength training to challenge your endurance.
Cardio 3. Alternates between floor work and plyo moves for 3 hard-driving rounds. Your mission is to deliver every rep.
PLUS, Fitness Tools:

QUICK START MISSION GUIDE
It's go time! Here are the simple steps to make 22 MINUTE HARD CORPS fully operational. Take your PT Fit Test, so you can track your progress.

BASIC TRAINING ACTION PLAN
If you want Hard Corps results, you have to get with the program. With this 8-week calendar, Tony makes it easy to plan your workouts and track your success.
RATIONS FOR RESULTS NUTRITION FIELD GUIDE
A basic but satisfying nutrition plan that lays out the three squares and snacks you'll need for the mission ahead. It makes meal prep easy so you can get back to the business of getting results.
FREE Bonus Gifts:

BONUS GIFT #1: HELL WEEK CHALLENGE CARD
Commit to a bonus week of Hard Corps workouts and push your results from great…to absolutely epic.

BONUS GIFT #2: COLD START PRE-WORKOUT DRILL
Fire this up before you get down to work. This no-nonsense warm-up gets your body ready for the challenge ahead.

BONUS GIFT #3: 24/7 ONLINE SUPPORT
Get FREE access to 24/7 support, advice from fitness experts, plus regular tips from your PT leader, Tony Horton
GET HARD CORPS RESULTS—GUARANTEED—OR YOUR MONEY BACK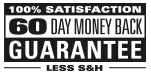 Try the entire program—the full 8 weeks—and if you don't get the results you want, simply send it back within 60 days for a full refund of the purchase price (less s&h). Think about it. That means you can do the whole program—all 8 weeks—and then decide if you want to keep it. That's how sure we are that you're going to be blown away by your results. In fact, we're so sure, we'll let you keep all 5 CARDIO and CORE workouts, plus the Rations For Results Nutrition Field Guide, as our FREE gifts—even if you return everything else—just for trying 22 MINUTE HARD CORPS!